With limitless fun on tap, the inaugural MDRCC Santa Ynez Valley four-day roadtrip began with a warmup ride Friday afternoon from base camp at the Pea Soup Andersens Inn in Buellton to Solvang with a stop at Alisal Ranch, where our arrival coincided with a rare release of their thundering herd of horses into the front paddock.
Speaking of fun on tap, we returned to Buellton for the first of many rounds of 805, the official recovery beverage of the MDRCCSYVSMDW.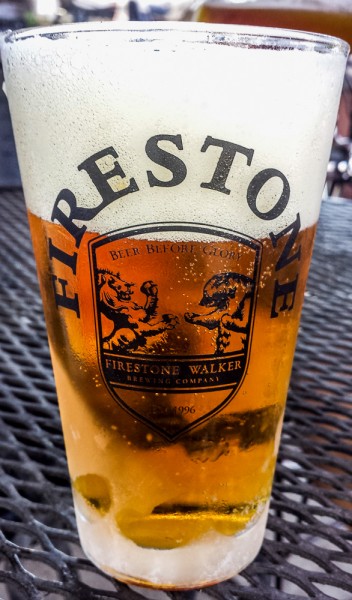 For some cross-training, we walked the 0.8 mile to dinner at the Firestone Tap Room, where 805s are born.  The weekend was off to a good start on a daily prescription to ride, drink, eat, and repeat as often as needed.
On Saturday, Keith, Scott, Daniel, Mike, Cathy, Tony, and Henry rolled out on the 2016 MDRCC Santa Ynez Super Metric to enjoy the second of four sunny, mild, blue-sky days.
The 73 miles of rollers and hills, some climbed in both directions, covered some of the best remote roads and scenery in the region, including parts of past Tours of California and the Solvang Century (2016 MDRCC Santa Ynez Metric Map).  The two-winged route started east on a first-half loop to Solvang and Los Olivos, up Foxen Canyon, and back through Los Olivos to Ballard Canyon for midway lunch in Solvang.
A return to Buellton started the western loop out Santa Rosa Road to Lompoc and back on Highway 246.
The recovery options included jacuzzi, nap, or lounging at the hotel, or a slice and another 805 at Gino's across the street.
Ambitious plans for a poolside barbecue resolved readily for lasagna dinners delivered to our patio.  Mike, our insistent grillmeister, provided tableside entertainment by firing up beef fajitas that caused a flare-up with an impressive column of smoke that could have brought out the local volunteer fire department.
Sunday's 36-mile Wine Tour went by Solvang to Santa Ynez and the scenic rollers of Happy Valley.