Marina del Rey Cycle Club, based in West Los Angeles, hosts weekly recreational bike rides and is dedicated to the promotion of safe, fun, and social cycling activities in the Southern California area.
Weekly Rides
Every Sunday – Meet at Helen's Bicycle Shop, 2472 Lincoln Blvd, Marina del Rey, Sunday mornings at 7:45 AM for a 8:00 AM start. We're usually back at Helen's by 2:00 PM. Routes are listed on the Rides page.
Ride Pace – We typically ride at a moderate pace (say about 17 to 22 mph on the flats) and we periodically stop and regroup during the ride to keep everyone together. When conditions permit (such as on PCH) we may ride in a single-file paceline.
Routes – Rides vary in length from 50 to 70 miles, usually include some challenging medium to long climbs, and a stop along the way to refuel, for those with a food habit. Riders can also choose to do the short version (25-35 miles) of a ride if short on time or working up to the longer ride distance. With routes that explore all facets of the Southern California area, including both coastal and inland areas, MDRCC rides provide great opportunities to visit many interesting Southern California locales.
Other Rides – Are scheduled from time to time, generally on Saturdays and holidays.  Check the Rides page for the current schedule.
New Riders – Are always welcome! If you're considering joining us on a ride for the first time, check out the FAQ Page. You'll find answers to most of your questions there.
---
The MDRCC Difference
One of the main things that distinguishes MDRCC from other cycling clubs in the area is the diversity of our rides. From a collection of over 30 LA area bike routes, each Sunday's ride visits different parts of our city, giving riders an opportunity to see areas they wouldn't otherwise have occasion to visit.  Been to Sierra Madre? Explored the canyons of the Santa Monica Mountains or the backroads of Palos Verdes?  You'll see all these areas and more, including remote-start rides to San Diego and Santa Barbara,  in the company of a fun and pretty knowledgeable group of riders. So check out the ride list and join us on a Sunday ride!
---
The Road to Hana
In our most distant Out-of-Town ride yet, Marvin and Anna road Maui's most beautiful road, the Hana Highway, on July 3, 2014.
There are wilder roads, steeper roads, and more dangerous roads, but in all of Hawaii, no road is more celebrated than this one. It winds 50 miles past taro patches, magnificent seascapes, waterfall pools, botanical gardens, and verdant rainforests, and ends at one of Hawaii's most beautiful tropical places.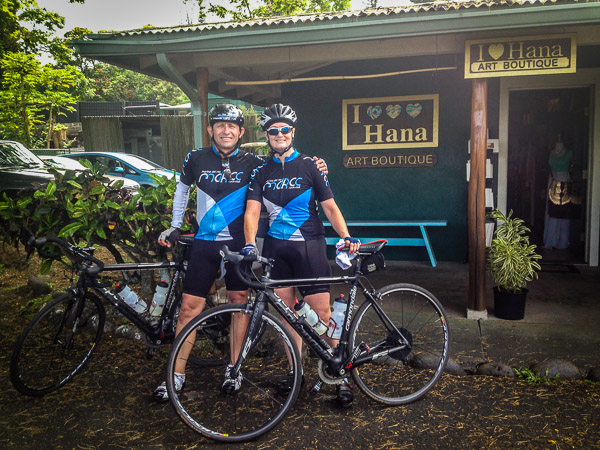 From the North Shore coastal town of Paia, the road to Hana winds some 42 miles through 617 turns and 54 bridges (many of them single lane) through some of the most lush, picturesque Maui landscape. And because of the wind-y nature of the road, with lots of rollers and a few moderate climbs, cyclists can easily maintain — and often exceed– the speed of the tourist traffic.
Upon their arrival in Hana Town, Marv and Anna hooked up with Scott and his friend Kevin (who were traveling on four wheels instead of two) at the Ranch Restaurant for a well-deserved meal. The road to Hana ranks as one of the most beautiful drives — and bike rides — in the world at 80+ miles round-trip… and MDRCC was there!
---
2014 Solvang Century
MDRCC was well represented in this year's Solvang Century by members Henry Choy, Scott Hillman, David Moss, and Erik Stokien. By all accounts, this year was one of the best in recent history, with great weather and outstanding pre- and post-ride meals in Buellton and Los Olivos. Look for the full story in our blog.
---
Great Western Bicycle Rally – May 23-26, 2014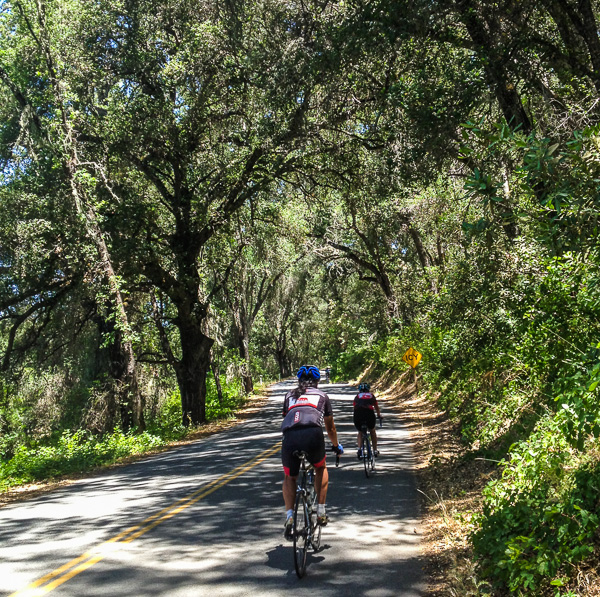 Eleven MDRCC members made the trip to GWBR in Paso Robles this year and enjoyed some fantastic routes, great meals, and — for the wine lovers in the crowd — a chance to sample wines from some of Paso Robles' outstanding wineries.